Workwear
We create bespoke work clothing that is comfortable, durable and professional. From hard wearing embroidered work shirts to printed t-shirts, we've got you covered.
Our guide to personalised workwear
Embroidered Workwear
Embroidery is the most popular option for creating your company workwear.
Durable and washable at high temperatures (always check the washcare label for the garment)
Quality look and feel for your corporate branding
Can be applied to most fabrics and products including polo shirts, hoodies, hi vis and jackets
Printed Workwear
We recommend print when you have a large logo that you want to stand out from a distance. From printed t shirts for promotions, through to vinyl printed
hi vis jackets
for on site, we have a huge range of options for your needs.
Popular for events and promotional workwear
More durable than you may think. Our prints last the lifetime of the garment if the wash care guide is followed
Print is available on most products and is particularly popular for workwear on t shirts and hi visibility clothing
Men's Workwear
We offer a wide range of men's work clothing, personalised with your design. From polo shirts with your logo to durable
cargo trousers
we can kit you out with a fully personalised man pack.
Bestselling customised men's work wear includes: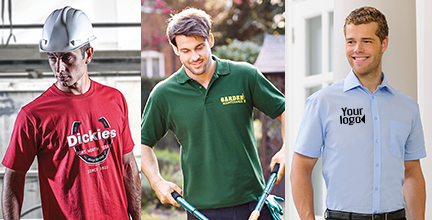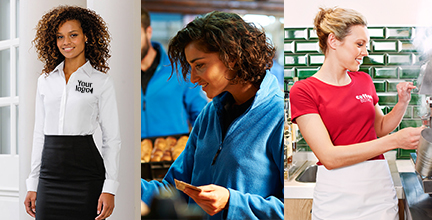 Women's workwear
An increasing number of styles are now not only available as unisex but in specifically tailored ladies work clothing. From fitted polo shirts for women's uniform through to outdoor clothing including a wide range of ladies outdoorwear such as lady fit fleeces and softshells, all available with your logo
Bestselling customised women's work wear includes:
Recommended Workwear Clothing